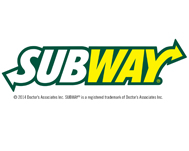 The inaugural Subway Summer Surf Series comprises of 13 events Australia wide and has been designed to unearth the best male and female junior surfers in quality waves throughout Australia.
Competition for the Gold Coast Event runs from the 3rd Jan, 2015 to 4th Jan, 2015. To enter you must be under the specified age as of the 22nd March, 2015. All divisions are limited, with entry allocated on a first in first served basis, with entries closing on Tuesday the 30th of December.
Divisions are Under 18 girls, Under 16 girls, Under 21 girls, Under 18 boys, Under 16 boys, Under 21 boys and will cost you $70 per division.
for all information check out the Surfing Australia Website where you can fill out their Entry Form
Subway. Eat Fresh, Surf hard!